4 Urban Street Art festivals celebrated around the world you must see!
Now street art has slowly paved its way across the globe to such an extent that there are festivals which celebrate this glorious art! From Europe's largest urban art festival in Banksy's hometown of Bristol to the comic book-inspired POW!WOW! in Hawaii, these are just some of the fabulous celebrations you must see!
Upfest – Bristol, UK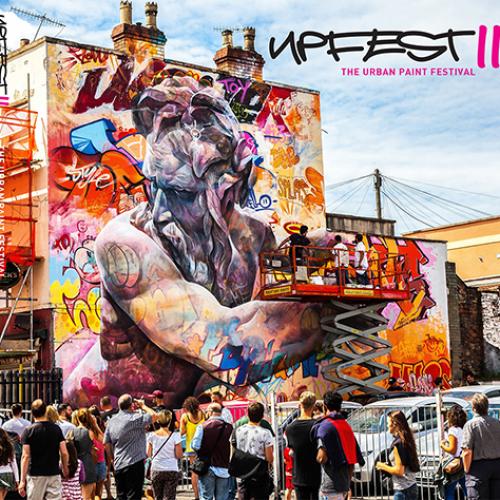 The Urban Paint Festival, created in 2008 between three crazy but art loving individuals. Inspired by Super Cans (Southampton), Cans Festival (London) and the growing number of paint jams around the UK, Upfest was born.
Upfest was originally conceived to get a group of 20 like minded artists together for a day of painting here in Bristol, however the first festival quickly grew to 50 artists once the word was out. It also help that one of the organiser had just been made redundant for the second time in 8 months and had too much time on his hands, after securing (through a few white lies) a fantastic Bristol venue, the Tobacco Factory, the first Upfest took place in October 2008.
Nuart – Stavanger, Norway
Nuart is an international contemporary street and urban art festival, held annually in Stavanger, Norway since 2001. It is widely considered the world's leading celebration of Street Art among its peers.
Nuart Festival provides an annual platform for national and international artists who operate outside of the traditional art establishment. From the first week of September an invited international team of street artists leave their mark on the city's walls, both indoor and out, creating one of Europe's most dynamic and constantly evolving public art events.
The event aims to stimulate debate by challenging entrenched notions of what art is, and more importantly, what it can be. Nuart aims to provide an internationally relevant, challenging and dynamic environment for artists, students, gallery goers and public alike; an event that aims to reflect the culture as well as participate it helping define it.
POW! WOW! – Hawaii, USA
Centered around a week-long event in Hawaii, POW! WOW! has grown into a global network of artists and organizes gallery shows, lecture series, schools for art and music, mural projects, a large creative space named Lana Lane Studios, concerts, and live art installations across the globe. The central event takes place during Valentine's Day week in February in the Kaka'ako district of Honolulu, and brings over a hundred international and local artist together to create murals and other forms of art. The festival is expanding to cities and countries such as Taiwan, Long Beach, Israel, Singapore, Jamaica, Washington D.C., Guam, New Zealand, Germany and more.
BLOOP – Ibiza, Spain
BLOOP International Proactive Art Festival (bloop-festival.com) is an independent initiative that showcases art, technology, music, education and gastronomy. The month-long festival has run in July and August every year since 2011, covering the streets of Ibiza in murals, interactive installations, paintings, video mappings, sculptures, parties, workshops, exhibitions and more.
One of the main activities within this fiesta is OpenAir.Gallery, which currently exhibits more than 20 murals by artists from around the world. The gallery is open year-round, embodying the festival's ethos: 'art is for everybody'. After six consecutive years, the festival is now considered a tourist attraction in its own right, with something for everyone from art lovers through to partygoers visiting Ibiza for its renowned nightlife.
art
artist
featured
grafitti
paint
paintings
street art