World's most beautiful fall foliage to experience at least once!
Fall can be easily the most beautiful time of the year. Here are world's most beautiful sites with amazing fall foliage!
Bavaria, Germany 
Fall in Bavaria is synonymous with one thing: Oktoberfest. Munich has the Oktoberfest celebration. It draws more than 16 million visitors each year. A lot of Bavaria is quite rural, though. Smaller towns might have their own version of Oktoberfest, but you can also see some of Europe's most beautiful fall colors in Bavaria's non-urban regions.
There are several trails that run through the region's forests. A couple of these paths pass near Neuschwanstein Castle (pictured), a fairy-tale-like structure that is the perfect backdrop for the sea of orange and red leaves. Beyond Oktoberfest, there are other events in the region that can enhance your autumnal excursion.
Dandenong Ranges, Victoria, Australia
All the gardens in the Dandenongs have their own fall charm. The Alfred Nicholas Gardens, one of the most popular to visit, with a pretty ornamental lake and boat shed – a favourite destination for photographers. Being dog-friendly (on leash) is a bonus. The paths are steep, though well surfaced.
Pirianda Gardens, another spectacular spot for colour. Steep paths meander through a variety of trees, it's one of the quieter gardens in the Dandenongs to visit, but well worth the effort.
Visit any of the gardens in the hills, they all have something to offer.
Great wall of China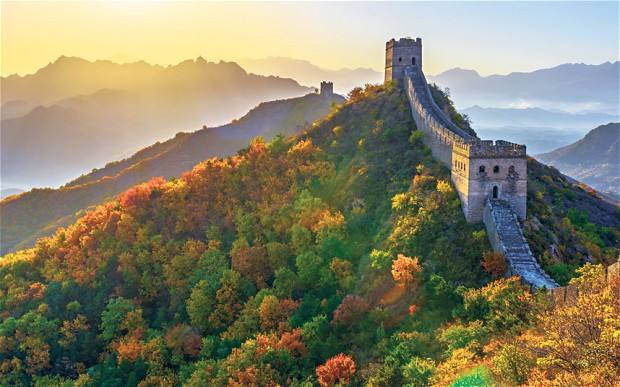 Fall is often recommended as the best season to visit the Great Wall. The weather is generally comfortable, though changeable. The sky is often deep blue and clear, offering the best chance to see the Great Wall snaking off into the distance. The average temperature range is 8°C–18°C (46°F–64°F).
When fall comes, the mountains are blanketed by colors of red, golden, yellow and brown, creating an amazing view, which complements the grays and paler colors of the Great Wall well.
Kashmir Valley, India
Autumn is the most beautiful season among all the seasons in Kashmir. The changing colors of leaves simply look mystical. In this season, the maple leaves of majestic Chinar trees turn from green to gold.
The yellow, crimson, and gold hues of autumn offer a mesmerizing beauty to tourists who visit Kashmir. Tourists from different parts of world come to valley to see the glorious beauty of autumn.
Kiyomizu-dera Temple, Kyoto, Japan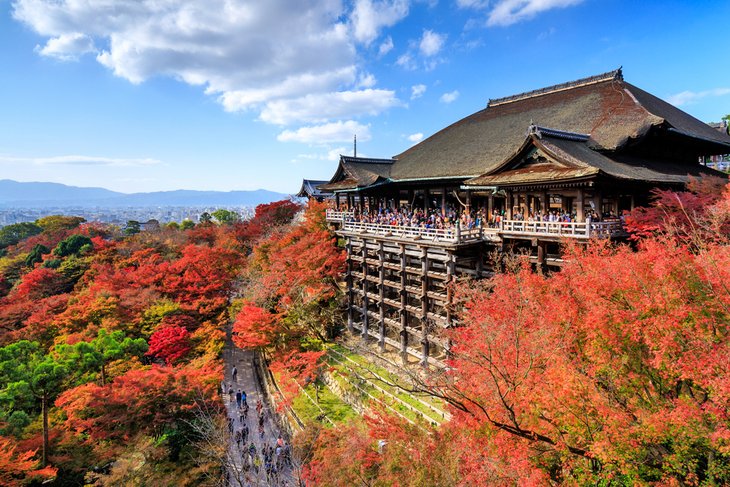 Spending autumn in Japan's cultural capital is one of the most beautiful memories I have of the Kansai region. Kiyomizu-dera is one of the must-see temples in Kyoto and for me personally autumn is the best time to visit. The hills and gardens on the temple grounds are so full of different colors that you don't know where to look first. Definitely try to visit during the week, as the weekends in autumn attract large crowds.
autumn
beauty
colours
fall
featured
leaves
nature
nature at its best
travel
world